RAYMONDHOSER.COM
WHAT THE CONTROLLED MEDIA DON'T TELL YOU

(Bookmark this page if you wish to return to it)
PLEASE CHECK ALL LINKS BELOW BEFORE MAKING YOUR SELECTION.
UNDERGROUND BOOKS THAT GOVERNMENT HAVE TRIED TO BAN.
LINKS TO OTHER RAYMOND HOSER AND SMUGGLED.COM
BANNED CORRUPTION WEBSITES
CONTACT RAYMOND HOSER – E-MAIL ON THIS LINKED PAGE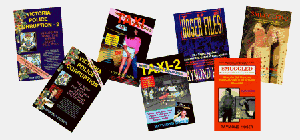 Raymond Hoser®, Snakebusters®, Snake man®, snakeman®, reptile parties®, hands on reptiles®, hold the animals®, Australia's best reptiles® and variants are all registered trademarks for numerous activities including reptile shows, reptile education, reptile handling, corporate entertainment in Melbourne, kids birthdays Melbourne and similar in Melbourne, Victoria, Australia.